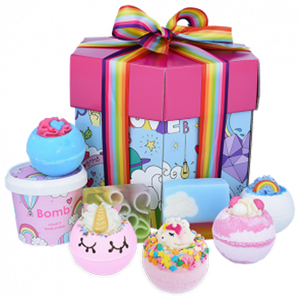 Unicorn Universe Luxury Bath Bombs Gift Pack
$3865

$38.65
Tax included.
---
---
A lovely gift idea from Bomb Cosmetics , already beautiful gift wrapped ready for you!
These products are handmade in the UK, and the ingredients are vegetarian and vegan friendly and use the most natural products they can find so neither animals , humans and the environment suffer.
Each of the gift packs contain the best, most popular and most favourite Bomb Cosmetics products from the past.
Ride on your very own Unicorn as you enter into the World of Bomb, breathe in rich fragrances and let the atmosphere of pure essential oils take you on a journey of your wildest dreams.
Featured here is a hexagonal gift box
Unicorn Universe
Gift Box Contains the following;
Contains :
The Last Unicorn Blaster 
Over the Rainbow Blaster 
Blueberry Funday Blaster 
I Believe in Unicorns Blaster 
All That Glitters Blaster 
Mrs Bluesky Soap 
Free Spirit Soap 
Cloud Nine Polish
Directions For Use:
Drop your Bomb Cosmetics Bath Blaster in to a bath of warm water and watch as it fizzes, releasing its perfume and essential oils, while the Bicarbonate of Soda softens the water. Rinse bath well after use. 
Place your Bath Creamer in warm water and watch as it fizzes softly, melting and releasing its Cocoa Butter.
Delivery : Dispatch within 24 hours