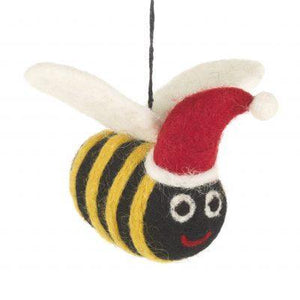 Handmade Bumblebee Christmas Tree Decorations
Designed in the UK and ethically produced in Nepal, Felt so good specialise in handcrafted, eco-friendly, biodegradable characters and decorations that are bursting with personality and unlike anything else on the market!
Always with a smile, this Christmas Bumblebee has flew far from the hive to come and spread some festive cheer. Handmade using entirely biodegradable, sustainable materials using traditional needle felting techniques.
Type: Fairtrade Hanging decoration
Size: 7.5 cm x 5.5cm
Origin: Nepal
Material: 100% New Zealand wool and wire
Manufacturing: Handmade needle felted
Suitable from: 3 years
Delivery : Dispatch within 24 hours excluding weekends