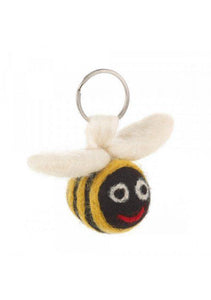 Handmade Needle Felt Bee Keyring Fair Trade Yellow with Black Stripes
This delightful busy bee will buzz around your keys all day! Beautifully handcrafted using traditional needle felting techniques from sustainable and eco-friendly materials.
Type: Keyring
Dimensions: 5cm x 5cm
Material: 100% wool
Suitable from: 3 years
Manufacturing: Handmade by traditional needle felting/wet felting techniques.
Delivery : Dispatch within 24 hours excluding weekends