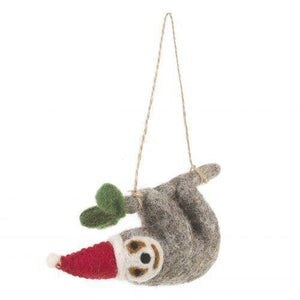 Handmade Felt Sloth Christmas Ornament Tree Hanging Decoration
If you watch very, very carefully you might see our sloth do a few acrobatic tricks on his hanging branch of more nicely, you'll doze off waiting for it to happen. We love him anyway, especially now he's wearing his new felt Christmas hat. How festive!
Type: Hanging Decoration
Dimensions: 9cm x 7cm
Material: 100% wool
Suitable from: 3 years
Manufacturing: Handmade by traditional needle felting/wet felting techniques.
Delivery : Dispatch within 24 hours excluding weekends