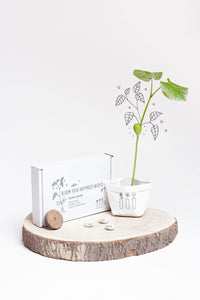 Wish box ideas: Bloom your happiness wishes
$638

$6.38

Save $6.37
Tax included.
---
---
A sweet little box with all the necessities to make wishes come true … In 'Bloom your happiness wishes' there is a tube with 3 happiness beans. Three beans that make three wishes come true 🙂
But what can you do with those beans? Very simple … Add water to the coconut earth tablet and put the soil in the Kop! seed pot. Make a small hole in the earth and place the wish bean on the earth. Give a little water every 3 days and after a little week you will see your wish grow. The best thing about this wish is that the bean text will remain on the first leaves of the plant 🙂
A gift that you will enjoy for a long time because the plant grows and continues to grow … 1 seed pot – coconut swelling tablet – 1 tube with 3 beans – instructions for use.
Delivery : Dispatch within 24 hours excluding weekends